Doug's Silver SVT Lightnings

Second Lightning is a 2004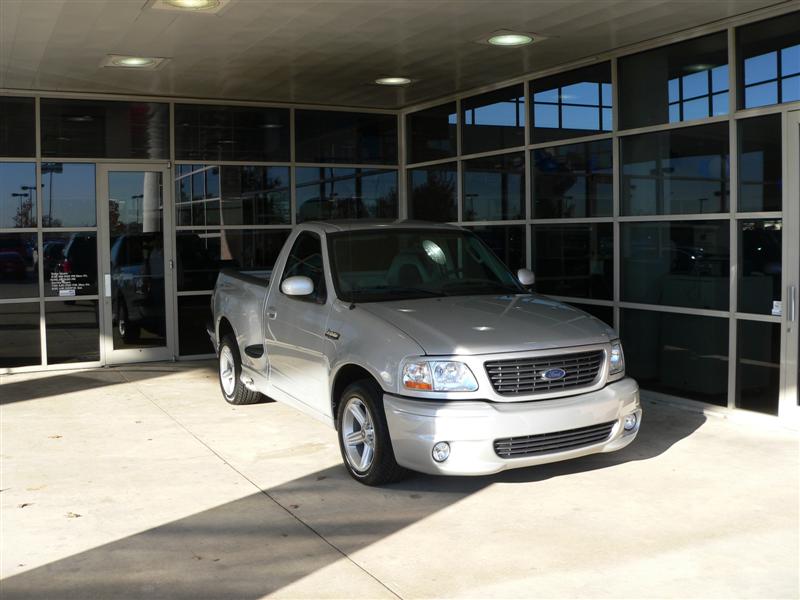 Picking up the 2004 Truck at Bankston Ford -
Note: The quality of customer service has fallen to zero at Bankston.
Even a letter to the General Manager was ignored... Details of delivery issues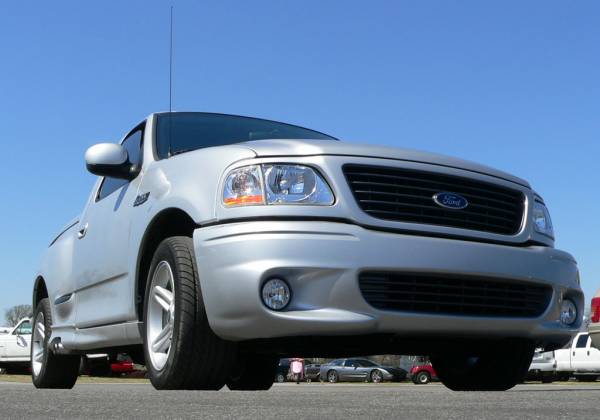 2004 power train is still stock. Have added stereo mods, Snuglid XL, Bedlight, Bed Rug
and Sat Radio that looks like Stock ford Radio.
Picking Up First Lightning at Dealer on 2/28/00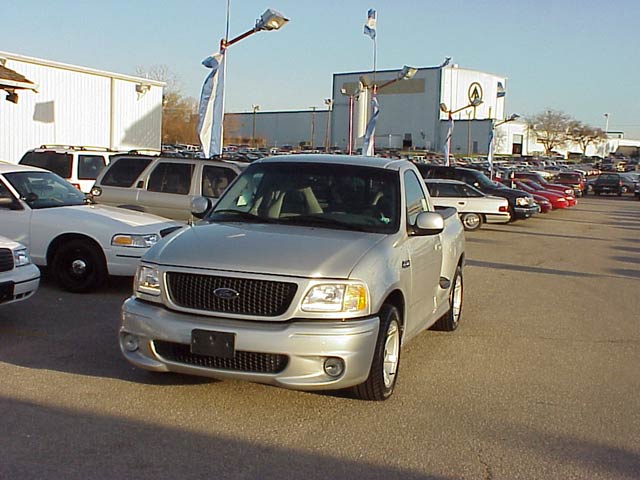 Another New Personal Best !!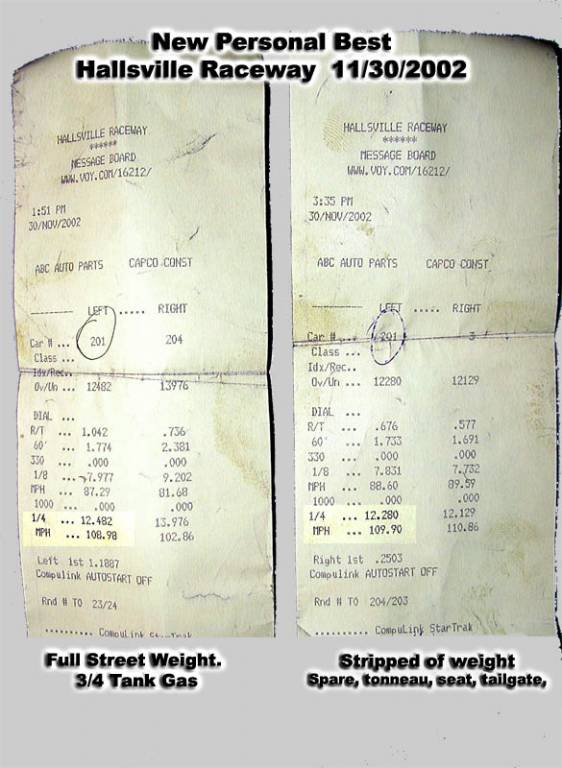 12.28 at 109.90.... !!!
Previous Best -
I drove up to MD, and NJ to race with the east coast guys...
While I was there Jim @ JDM tuned my chip and I had him tweak a few things and the result was a 12.52 @ 108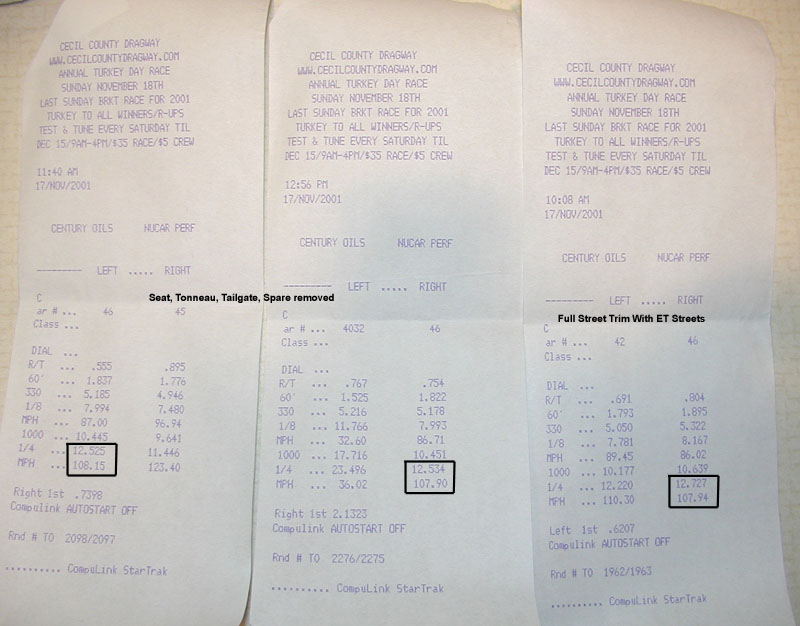 Here is MPG of the 12.53 run where the guy in the next lane loses his hood....
Dynoed on 12/1/01 with 388.9 HP and 478.5 ftlbs of Tq
Temp 73.7 Degrees - Barometric Pressure 29.59 in hg
Stayed over 400 ft/lbs of torque from 3100-5100 rpms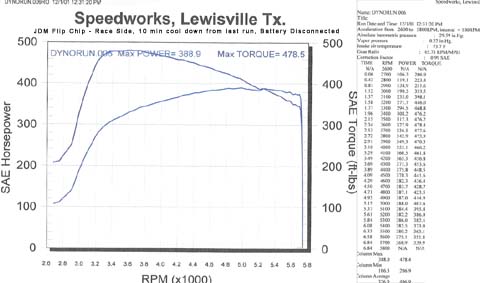 Dynoed on 11/2/2002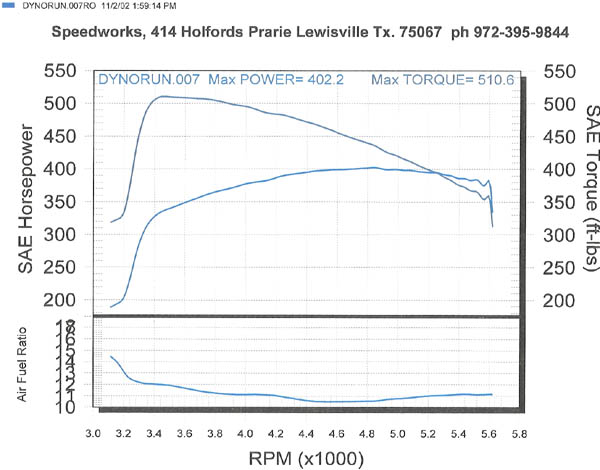 Bling Bling
SVT Ontrack 2000
SVT Ontrack 2001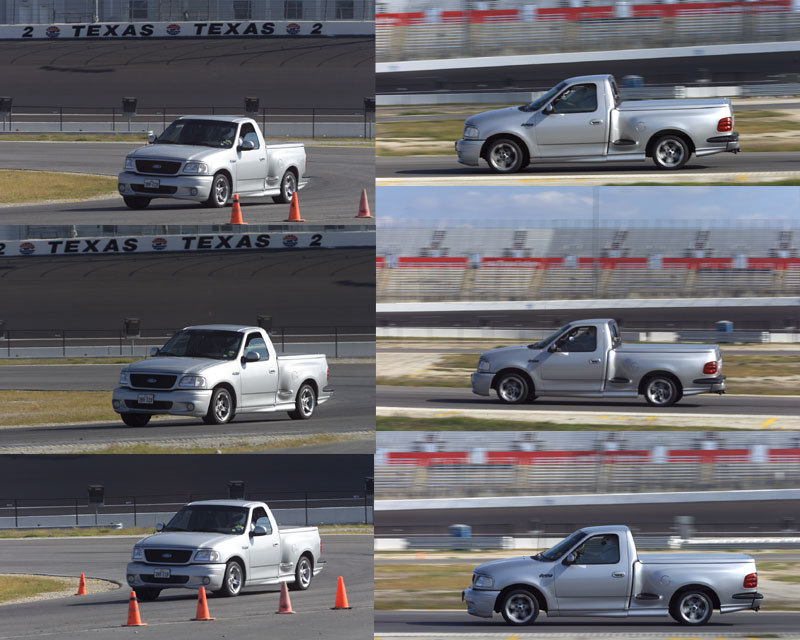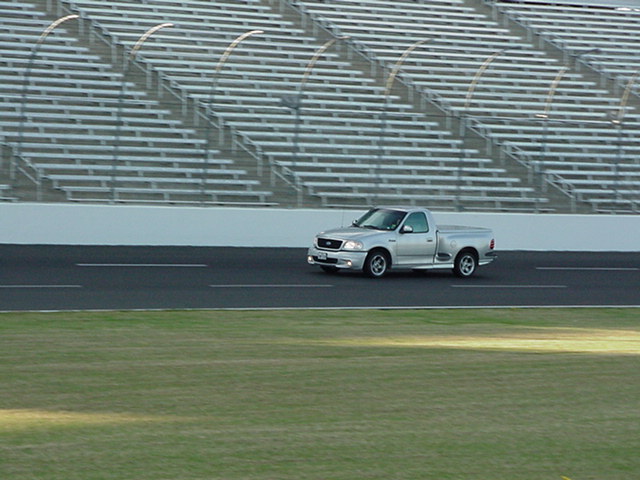 Had to add this picture of my Truck on the Big Oval at Texas Motor Speedway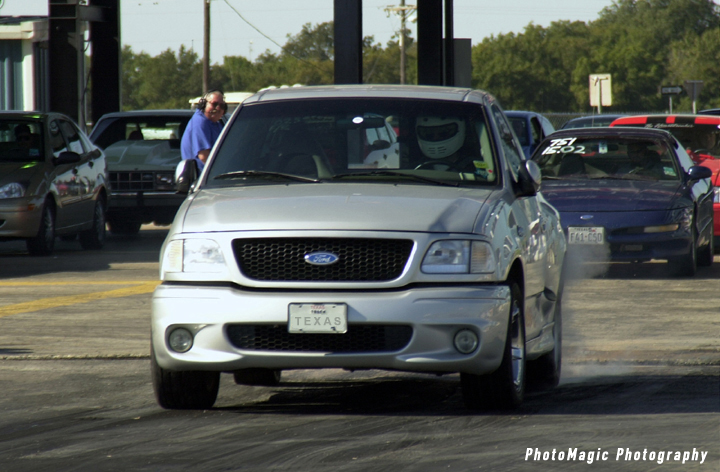 FFW 2001 - Qualifying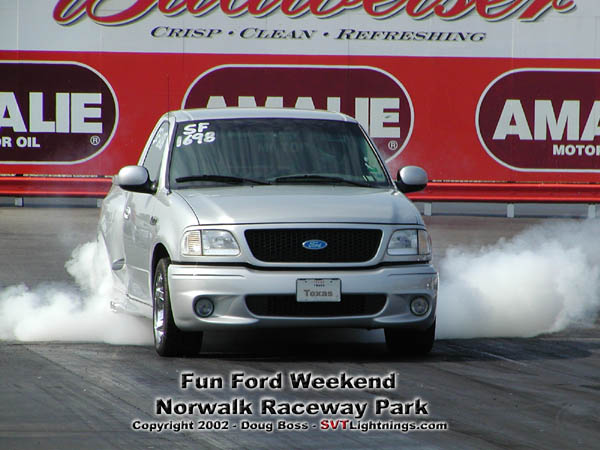 FFW 2002 - Norwalk Ohio
Ironically the 2001 picture is a paid for pro shot the 2002 pic is one I took with Paul Gamino behind the wheel.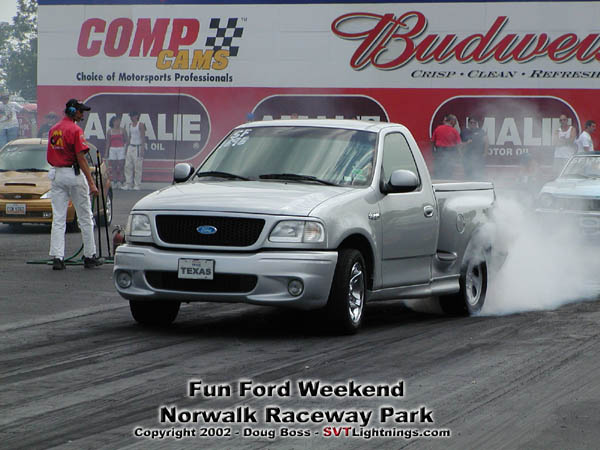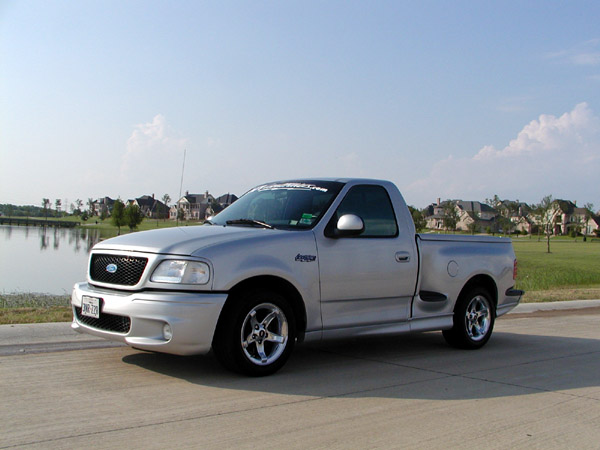 Cleaned up Summer 2002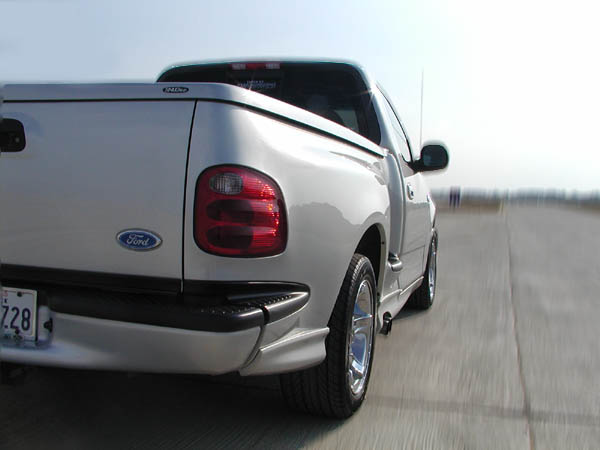 Here is a shot from a slower car... LOL
Doug gets first intercooler replaced
On 10/25/2000 or so I noticed the Intercooler reservoir is about 1/2 inch lower than where I marked it 4 months ago. Seems like 11k miles is a common number for intercooler leaks based on post in the Lightning Forum on F150 Online.
Around the End of the year I had the intercooler replaced.....
On Saturday 10/21/00 I had a sound system upgrade done at Earmark Car Audio. I replaced the front 5x7's with Boston Acoustics Components and the rears with Boston Acoustics 5x7's. Earmark Car Audio made a custom enclosure for a single JL Audio 10" Sub to go behind the drivers seat. They put a huge Alpine V12 amp between the Sub and the Stock CD changer. These additions should make it easier to hear the CD's while screaming down the radio at WOT with the windows down.

Now I just need to figure out what Crossover, Hi pass, Low pass, filter, and Gain all mean so I can tweak the amp. It sounds great at half volume but not so good at lower volumes. I need to dial down the amp so it kicks in at lower freq and lower the gain a bit as well I think.
I decided to check and try to replace the plugs the other day....
Pictures of Fun With Sparkplugs
The Purple color is from Octane Boost - Broken Electrodes were Splitfires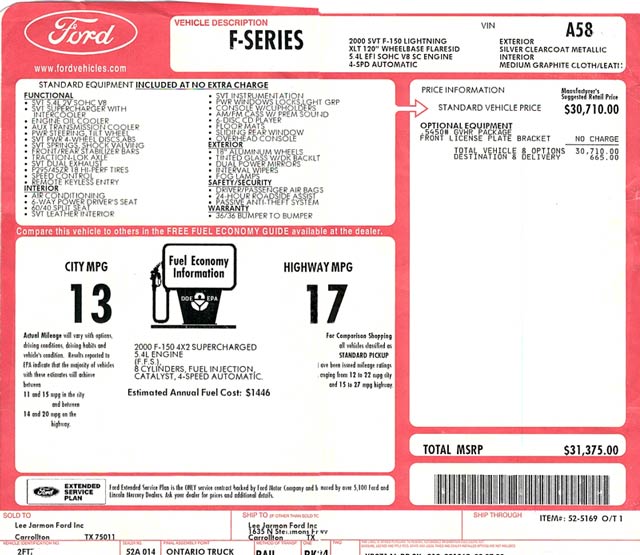 Scan of Window Sticker
As you can see by the sticker I bought the Lightning at Lee Jarmon Ford but their service is very poor so I don't take it there anymore. I have heard good things about Bankston Ford in Frisco and they have treated me pretty good so far
More pictures from the day I picked up the Lightning
Click on these links to see mpg's of us having some fun with 30 miles on the odometer
It was too dark to see the smoke and I was too clueless to roast em correctly
Thought I would have some fun with the photographer.
Needless to say I am grinning from ear to ear. !!!

First ever trip to Drag Strip - Texas MotorPlex Ennis 3/17/2000
Very Happy with ET - Reaction time needs work Temperature was about 54 degrees
I was in Right lane both times -

This run was against nice yellow SVT Cobra

Second Run - Little better reaction but tires spun at line
This one was against a Honda with big tail pipe. I was in Right Lane again
Big Grins !

Second Trip to Ennis
Photos by Sixpipes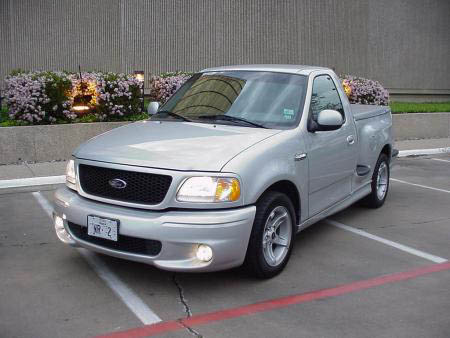 On Way to Strip.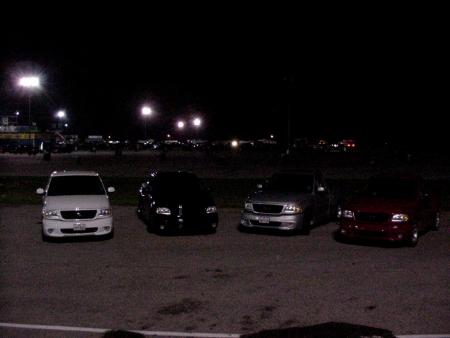 Moonshine, Sixpipes, Mine, Missouri Tom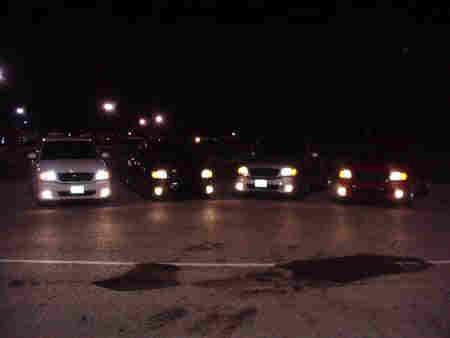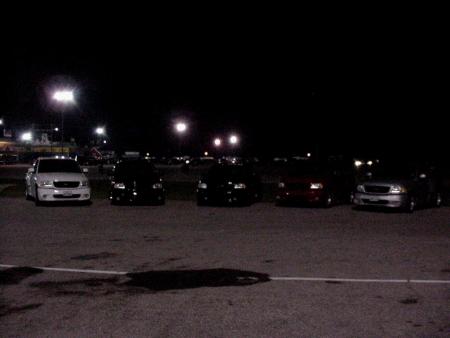 Moonshine, Sixpipes, Mumbly, Missouri Tom, Mine
Link to the SVT Certificate Ford Sent recently
Link to the New Wheels and Tires I recently bought.
I am running the chrome wheels on the street tires now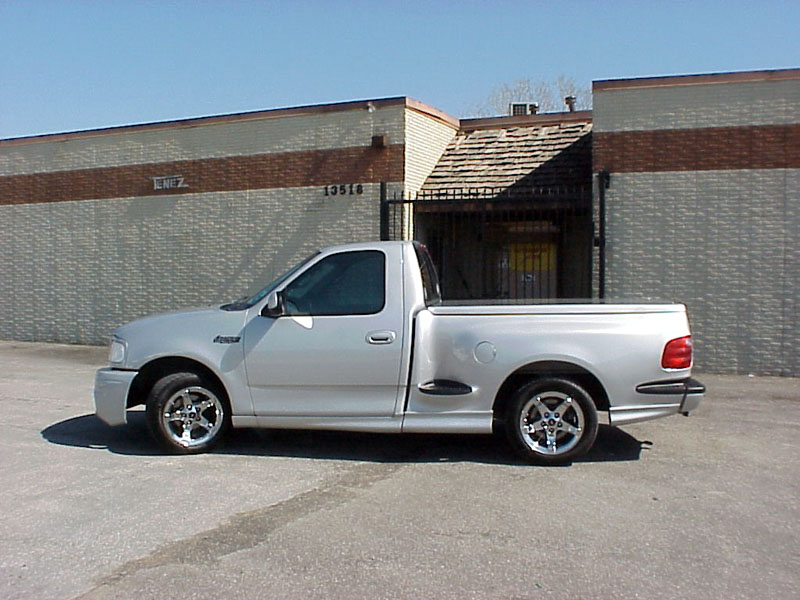 Chrome Rims
Modifications made to My Lightning....
FMS 3.73 gears ( Expensive ),
PSP Intake,
Valentine 1,
Snuglid ,
Lightning Throttle Body
BedRug,
Lighted Ford Logos,
Clear Corners,
Nickel 3M Scotch Tint Black Panther Auto Film,
SuperChip Flip Chip with JDM 10/01 race program,
JDM Interchangeable pulley,
JDM Electric Fan,
Boost ByPass,
Cobra R Water Pump,
JDM Driveshaft Loop,
JDM Line Mod Valve,
Boston Acoustics Speaker Upgrades,
Alpine V12 AMP. JL Sub,
Ford Chrome Wheels
Nokia Car Kit
Kooks Long Tube Headers
Magnaflow Muffler
High Flow Cats
Level 10 Transmission Rebuild
There are LOTS more pictures elsewhere on SVTLightnings.com and On the TALONClub.com site



Send Comments to Silver_2000@SVTLightnings.com